Meet our member: SGAE in Spain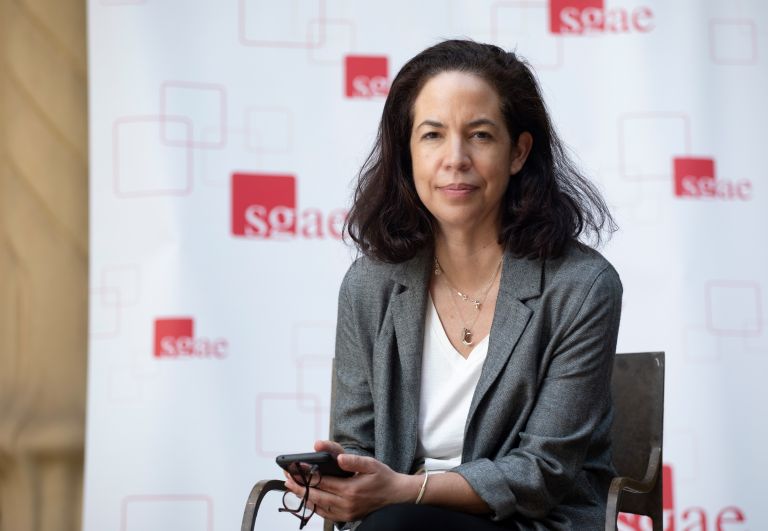 Spain is one of the countries with the largest number of UNESCO world heritage sites, highest life expectancy and most widely spoken language. It is also one of the countries with the oldest collective management organisation, created more than 100 years ago. I met with Cristina Perpiñá-Robert who recently returned to SGAE as General Manager. We talked about SGAE's work and expectations on the Spanish EU Presidency.
New in her role as General Manager of SGAE, Cristina Perpiñá-Robert is not new to the organisation. Cristina has defended authors' rights her whole professional life. In April 2023, she returned to SGAE, after leaving in 2019 to work for CISAC as the Director of Legal and Public Affairs. Previously, she first worked at the legal department of SGAE, then she became the Director of International Regulatory Affairs. Before leaving, she took on the role of Director of Digital Licensing, at an interesting time when VOD platforms were newly introduced to the public and licensing for online usage was still a novelty.
SGAE is a multi-repertoire organisation that manages rights for audiovisual, dramatic and music authors that next year will be celebrating its 125th anniversary. Working with many repertoires can be challenging as the interests might be different and sometimes even conflicting. At the same time, it is a strength to represent many different types of authors and works when advocating and negotiating for their rights like their remuneration, explains Cristina.
Last year, SGAE's collection and distribution of royalties increased. The organisation collected 349 million EUR in total (their highest figure since 2007), 35% more than the previous year. For audiovisual authors, SGAE collected 12 million EUR for the first half of 2023, more than was estimated.
"In Spain there are SGAE and DAMA, two competing collective management organisations that both collect for screenwriters and directors, which is different from CMOs in most other countries. On the positive side, in order to compete, we must ensure very good services for members and try as best as possible to reduce our administration fees."
Although SGAE and DAMA are competing on the market, they also cooperate by negotiating jointly with online platforms to get the best tariffs for their members, explained Cristina.
Right now, SGAE has 10,000 audiovisual writers, directors, translators and adaptors. SGAE has developed an audiovisual division with 10 staff members dedicated to ensuring that its audiovisual members understand their rights and receive the legal advice they need on their contracts and exploitation of their works.
"Spain has a very strong legal regime protecting audiovisual authors' remuneration right that many Spanish authors take for granted. SGAE is therefore providing a world map on its microsite to explain to its members in which countries their legal or contractual rights are recognised."
SGAE's audiovisual division also focuses on young audiovisual creators early in their career, whom they invite for breakfast sessions to meet with more experienced authors to exchange information with and learn from.
Cristina explained why the SAA is essential for SGAE. Firstly, it needs the SAA's technical and legal expertise regarding European law and to keep informed on what is going on in Brussels and in Europe. The SAA coordinates its members, with different backgrounds and national legal traditions, and convey clear arguments and messages on for example the 2019 EU Copyright Directive and the Audiovisual Media Services Directive, said Cristina. Secondly, being a multi-repertoire society, it is important to get feedback from the SAA on topics and discussions where different sectors might not completely align. Understanding the interests of the audiovisual sector helps SGAE to seek compatibility with its other sectors.
"The SAA is also very important for us to expand the Spanish audiovisual remuneration regime. Getting it harmonised in Europe would be good for all authors, but also for SGAE because it is difficult to implement these rights in Spain when negotiating with platforms, which have not experienced such rights in other European countries."
On 23 July, Spain held its national election. The result was a tie between the socialist and conservative parties. It is not yet clear what the colour of the government will be, explained Cristina.
SGAE's main expectation for the Spanish Presidency of the Council of the EU is the promotion of the Spanish remuneration scheme and its possible harmonisation in the EU. Not only it will benefit all audiovisual creators in Europe, but it will also make it easier to negotiate with users from other countries. The legal remuneration regime in Spain is very generous and needs to be protected. The law recognises authors regardless of their nationality and whether their rights are recognised in their own country or not.
Another issue is that of the Status of the Artist, which the Spanish government has actively been working on the last years. Screenwriters and directors' precarious working conditions must be considered, including their social security and taxes. In 2023, Spain adopted a legislation on the Status of the Artist, prepared in coordination between different Ministries. Royalty collections for creators' artistic work is now compatible with their retirement pension, special unemployment benefits and tax provisions have also been introduced. The artists' status is a priority for the Spanish government on the European level, especially as EU Member States have now presented their expert group report, and the European Parliament is working on the topic as well (read more).
Artificial Intelligence is also high on SGAE's agenda. Creators benefit from AI, but it is also a threat for copyright and potential loss of jobs. SGAE is lobbying for transparency obligations in the EU AI Act and that the text and data mining exception in the 2019 EU Copyright Directive is properly applied and interpreted. Cristina explained that most likely legislators did not have current AI generative tools in mind when articles 3 and 4 of the Directive were approved. SGAE's main concern is therefore whether authors can participate with a reasonable remuneration when licensing these uses and that the EU regime is not circumvented because some of these AI services are located outside the EU.
"We really need to pause and think about the impact of new technologies. The development cannot be stopped so we need to think about how we can license and opt-out on a global level for our members."
To conclude, Cristina pointed out that Spain has implemented the Audiovisual Media Services Directive rather late. The investment obligation is one of the lowest in Europe, only 5% compared to 20% in France. This is something that the Spanish government must continue working on.
---
Public Affairs and Communication Director, SAA