Open letter: Audiovisual and cultural organisations voice concerns over the European Media Freedom Act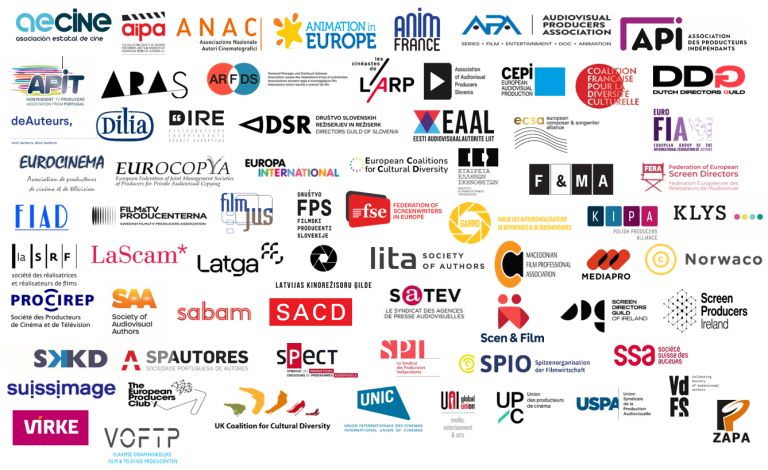 A broad coalition of 73 European and national organisations from the audiovisual and cultural sectors addresses the EU Commission, Council and the Parliament with a joint letter expressing their concerns over the EU Commission's proposal for the European Media Freedom Act.
The European Media Freedom Act (EMFA) proposed by the European Commission contains welcomed safeguards for the independent functioning of public service media and duties of media service providers in the internal market, with the objective to ensure the protection of media pluralism and independence across the European Union.
With the EMFA, the European Commission is setting out new "requirements for well-functioning media market measures and procedures" with the objective of tackling obstacles to the functioning of the internal market for media services, such as disproportionate and inadequate national regulations affecting the media and press sectors. These national regulations are considered as "regulatory burdens" and "obstacles to the exercise of economic activities" in the European media market with the risk of creating "legal uncertainties" weakening investment in media services.
We, organisations from the audiovisual and cultural sectors, are concerned that this approach may weaken and possibly challenge the existence of protective and ambitious cultural policies set out by Member States to promote European audiovisual creation in all its diversity.
We call on the European co-legislators to revise EMFA Article 20 to ensure continued sustainable conditions for the local audiovisual creation across Europe, which is a cornerstone of well-functioning democracies and an essential means to remain united in diversity.
Download the joint letter with more information about our position on Article 20.
---
Signatories:
Animation in Europe
CEPI European Audiovisual Production Association
ECSA European Composers and Songwriters Alliance
EPC European Producers Club
Euro FIA European Group of the International Federation Of Actors
EUROCINEMA
EUROCOPYA
Europa International
European Coalitions for Cultural Diversity
FERA Federation of European Screen Directors
FIAD International Federation of Film Distributors' and Publishers' Associations
FSE Federation of Screenwriters in Europe
SAA Society of Audiovisual Authors
UNI MEI UNI - Media, Entertainment and Arts
UNIC International Union of Cinemas
---
AECine Asociación estatal de cine (Spain)
AIPA, k.o. - Collecting society of authors, performers and producers of audiovisual works (Slovenia)
ANAC Associazione Nazionale Autori Cinematografici (Italy)
AnimFrance (France)
APA Audiovisual Producers Association (Italy)
API Association des producteurs indépendants (France)
APIT Association of Independent Television Producers from Portugal (Portugal)
ARAS Asociace režisérů, scenáristů a dramaturgů (Czech Republic)
ARF/FDS Association Suisse des Réalisateurs-trices et scénaristes (Switzerland)
ARP Société civile des Auteurs Réalisateurs Producteurs (France)
Association LATGA (Lithuania)
Austrian Commission for UNESCO
Coalition Française pour la diversité culturelle (France)
Coalition Suisse pour la diversité culturelle (Switzerland)
Coligação Portuguesa para a Diversidade Cultural (Portugal)
DAVP Association of audiovisual producers of Slovenia (Slovenia)
DDG Dutch Directors' Guild (Netherlands)
deAuteurs (Belgium)
DILIA (Czech Republic)
Dire Distributeurs Indépendants Réunis Européens (France)
Directors Guild of Latvia (Latvia)
DSR Directors' Guild of Slovenia (Slovenia)
EAAL - Estonian Association of Audiovisual Authors (Estonia)
F&MA Film and Music Austria (Austria)
FilmJUS (Hungary)
Film&TV- Producenterna (Sweden)
FPS Filmski Producenti Slovenije (Slovenia)
Greek Directors' Guild (Greece)
KIPA Polish Producers Alliance (Poland)
KLYS Swedish Joint Committee for Artistic and Literary Professionals (Sweden)
La GARRD Guilde des Auteurs Réalisateurs de Reportages et Documentaires (France)
La SRF La Société des Réalisatrices et Réalisateurs de Films (France)
LaScam* (France, Belgium)
LITA, Society of Authors (Slovakia)
MediaPro (Spain)
MFPA Macedonian Film Professional Association (North Macedonia)
Norwaco (Norway)
PROCIREP (France)
Sabam (Belgium)
SACD (France, Belgium)
SATEV Syndicat des Agences de Presse Audiovisuelles (France)
Scen & Film Swedish Union for Performing Arts and Film (Sweden)
Screen Directors Guild of Ireland (Ireland)
SKKD Slovak Coalition for Cultural Diversity (Slovakia)
Sociedade Portuguesa de Autores (Portugal)
Société Suisse des Auteurs (Switzerland)
SPECT Syndicat des Producteurs et Créateurs de Programmes Audiovisuels (France)
SPIO Spitzenorganisation der Filmwirtschaft (Germany)
SPI Screen Producers Ireland (Ireland)
SPI Syndicat des Producteurs Indépendants (France)
Suissimage (Switzerland)
UKCCD British Coalition for Cultural Diversity (United Kingdom)
UPC Union des Producteurs de Cinéma (France)
USPA Union Syndicale des Producteurs Audiovisuels (France)
VdFS (Austria)
Virke Produsentforeningen (Norway)
VOFTP Vlaamse Onafhankelijke Film and Televisie Producenten (Belgium)
ZAPA (Poland)