SAA White Paper 2nd Edition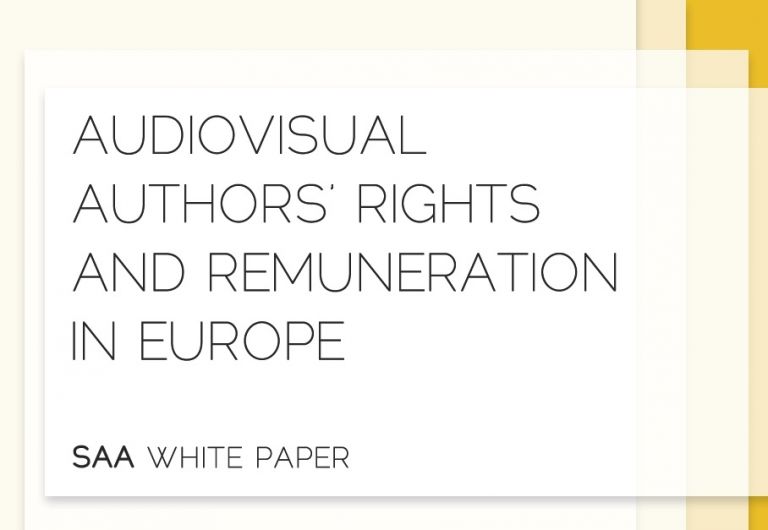 March 2015, SAA's 2nd edition of its White Paper on Audiovisual Authors Rights and Remuneration in Europe underlines the explosion of different forms of exploitation of audiovisual works.
The White Paper also demonstrates the opportunities of the digital economy and how SAA's members can help ensure Europe's screenwriters and directors get a fair share.
Download: the white paper, its executive summary (in English and French) and the authors statement (in English and French).
At a time when copyright is under scrutiny from both the European Commission and Parliament, the audiovisual authors' community is keen to draw the attention of policy makers to the needs and expectations of authors in a changing audiovisual landscape:
Copyright is the basis of authors' remuneration and the sustainable financing of works. Any discussion on copyright should respect and promote this.
Today, collections of SAA members, who manage rights for over 120,000 authors, represent only 0.37% of audiovisual sector revenues.
Collectively enforced unwaivable right to remuneration for the exploitation of works is needed to ensure audiovisual authors get a fair share.
All platforms who distribute works should contribute to this remuneration.
Territoriality is not an impediment to the circulation of works; to the contrary, it ensures their active circulation and the sustainable financing of diverse European production.
Janine Lorente, chair of the SAA board of directors: "Authors love Europe. They love the idea of these different cultures mixing. They are inspired by these different cultures as they try to tell their stories of the world around us. We need to build a regulatory framework that lets them create and live from their creation."
Roger Michell, British screenwriter and director (Notting Hill, Le Week-end, Hyde Park on Hudson): "I have unfortunately had to learn the hard way how poor contractual practices deprive authors from being linked to the success of their works. Professional organisations and CMOs like the members of SAA are essential to authors like me being able to be paid fairly for my work and to enforce my rights."
Robert Alberdingk Thijm, Dutch screenwriter (A'dam e.v.a): "Our authors' rights are what enable us to make a living and retain creative control over our work. In too many countries in Europe we are deprived effective enforcement of our rights. An unwaivable remuneration right would help remedy that."
Virginie Rozière, MEP: "The economic value chains of the digital cultural industry as deeply changed: we have moved to a four-party relationshup between the artist, the producer, the intermediary and the consumer. In this context, intermediaries, and especially Internet's giants, capture most of the generated value. We must refuse this utilitarian vision of culture and fight for the diversity and sustainability of the works. Fair remuneration of authors and artists is key to support cultural diversity and to grant consumers access to a wide range of cultural content."
Authors' statement: "We are Europeans who reject this divisive discourse opposing the public, our audience, to creators. Our greatest desire is that our works are watched by as many people as possible, find their audience and flow across borders, including online. Often, the supposed barriers have nothing to do with authors' rights, but everything to do with business practices."