"What is an author if they don't have the right to express themselves?"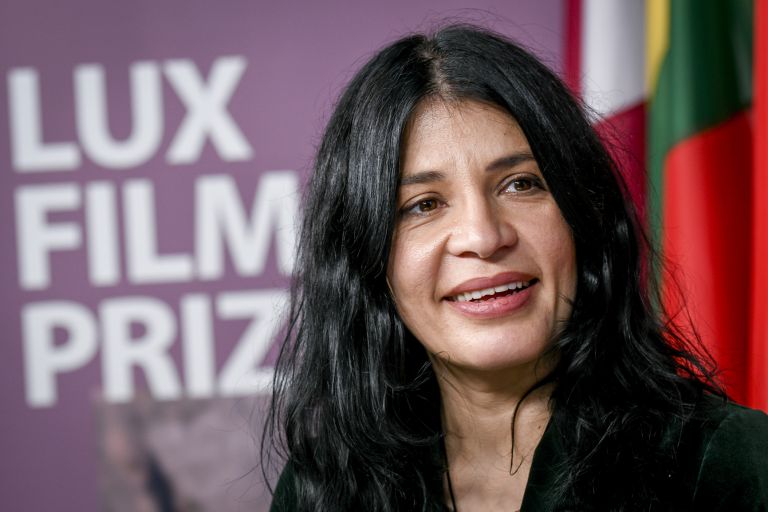 Every year, the European Parliament celebrates European cinema and cultural diversity through the LUX Film Prize Award. The SAA is proud to participate to this celebration by organising a dinner, in partnership with FERA and FSE, gathering Members of the European Parliament, our members and the LUX Film Prize finalists. This year, our guests reminded us that freedom of artistic expression cannot be taken for granted and needs to be upheld and protected at all times.
One of this year's guests was Oleg Sentsov, the Ukrainian filmmaker who was awarded the European Parliament Sakharov Prize last year but was unable to receive it as he was imprisoned in Russia. He was released in a prisoner swap on 7 September and could thereby finally be honoured in person in Strasbourg. Sentsov told Members of the European Parliament how far the European Union has come: Member States discuss reforms and ways forward while Ukraine is still facing Russian state violence with hundreds of Ukrainians having their houses searched, being tortured and put behind bars, including filmmakers such as himself.
Among the guests were also filmmakers from Croatia, who are currently in a dispute with the Croatian public service broadcaster HRT that is failing its obligations to promote European audiovisual works. HRT is blocking the broadcast of 34 films representing the best of recent independent Croatian documentary production. Resisting this trend in Croatia, filmmakers have launched a campaign I'D LIKE TO WATCH THAT – HRT SAYS – NYET! in July 2019, supported by FERA and SAA (read more).
LUX Film Prize films generally deal with challenging topics that have the power to counter populism and polarisation across Europe. By providing subtitles in the 24 EU official languages, LUX Film Prize has made it possible for these films to reach a wide audience across Member States. "God Exists, Her Name is Petrunya", directed by Teona Strugar Mitevska won the 2019 award. The film tells the real-life story of a courageous Macedonian woman who acts on her belief in (gender) equality. When the local high priest conducts the tradition of throwing a cross to be caught for good fortune and prosperity, Petrunya jumps into the water and catches it before the men. Her act causes uproar and a clash between the legal justice that the police try to enforce and the traditions the church wants to uphold. Petrunya stands firm against the village aggressors and bullies provoked by her resilience. The characters reveal women confined to subversive roles of femininity and men pressured into dominant roles of masculinity, painfully identifiable way past the Balkans setting of the movie. "What is an author if they don't have the right to express themselves?", said Teona Strugar Mitevska during her opening speech at our dinner, and thanked the LUX Film Prize for choosing uncomfortable films, such as hers.
This year's record high attendance of MEPs proved that many new politicians are interested in and would like to defend culture and its creators. At the same time, the recent decision by the political groups in the European Parliament on its selection of intergroups not re-establishing the 'Cultural and Creative Industries Intergroup', demonstrates that attention to culture and its creators could not be taken for granted. The SAA and partner authors' and performers' organisations will have to find other ways to work with the European Parliament and bring creators' concerns to the political agenda.
Read our press release following the LUX Prize Award ceremony and see some photos from the dinner.