We bring authors' stories closer to policymakers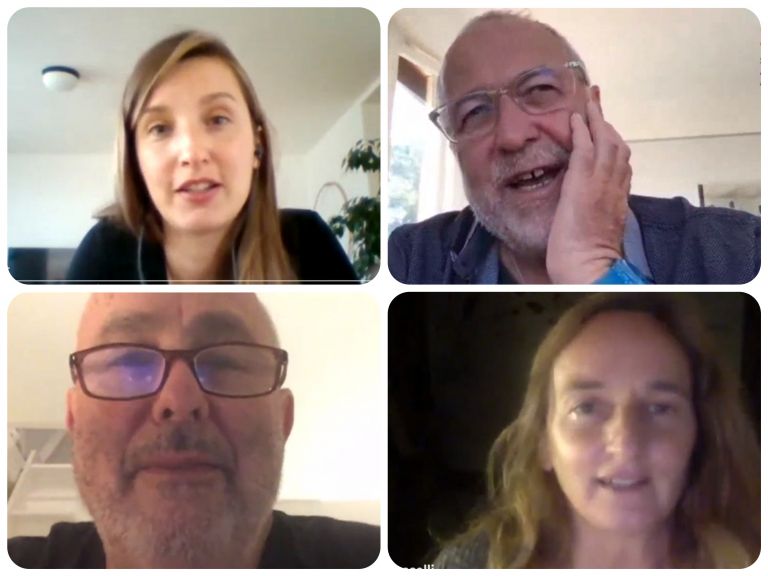 "Nothing about us, without us" is a slogan used by marginalised groups to say that no policies should be decided without the representation of the groups affected by them. The idea that people should be at the centre of policymaking may seem obvious for some but in the audiovisual sector, the interest of large streaming platforms often comes before - and at the expenses of - individual authors' rights to their works.
Screenwriters and directors create stories for their audience to enjoy in cinemas, on TV, and streaming platforms. We, at the SAA, have made it our priority to bring the stories of audiovisual authors' professional experiences to policymakers.
In early fall of 2020, when realising that the pandemic was here to stay, we quickly made sure to receive the training needed to learn the ins and outs of organising online events. One of the great tips that we received, to make events dynamic and engaging, was to mix live panellists with pre-recorded material. Pre-recording comes in handy especially when working with politicians and film directors, for example. This way, we could work around their busy schedules and did not risk any last-minute cancellation or connection issues on the day of the event. Another valuable advice was that going that extra mile in terms of preparations pays off to make the event more professional. At the same time, 'lowering the bar' to no longer expected 'tv-studios' quality allowed us to use the video-material from simple conference calls with authors directly from the screen in their homes.
To counter the 'zoom-fatigue', we mastered condensing our content in a maximum of 1,5 hours, instead of a half-day in-person conference. Pre-recording authors have given us the opportunity to edit half-hour conversations into 5-minute highlights of the most moving parts of their testimonies. We have also learned that dedicating more time with the speakers on beforehand results in sharper and shorter interventions.
Together with a good moderator, these tweaks contributed to making the 4 online events organised during the last year a success. Two of our events were co-organised with partner organisations (AEPO-ARTIS, CISAC and W&DW). Each attracted several hundreds of participants and the last event had people participating from 75 countries across the world,which would have been impossible at physical events. Even without travel restrictions due to COVID-19, reasons such as lack of time, environment and finances would stop people from attending. This way, anyone could connect and follow our events, and the recordings allowed people who missed them to (re-)watch them. Our small team and limited means wouldn't allow us to organise a physical event accommodating several hundred international participants but online we could do it.
In preparation of our online events, we have had the pleasure talking to authors from several countries, among them France, Germany, Slovenia, Spain, the UK as well as Japan and Australia. Their personal encounters not only resonate, but they are also memorable. I still remember how Urša Menart expressed her frustration that due to COVID-19 she was no longer able to pitch her projects to financers and producers. Julie Bertuccelli told with sadness how she had to give up a several years-long film project, as the pandemic travel restrictions and sky-high insurances stopped her dream. Roger Michell (who sadly recently passed away) showed gratitude for finishing filming before the lockdown and for being able to continue working with editing and presenting his film at the Venice Film Festival, before the second wave of COVID-19. Fred Breinersdorfer gave a sincere insight into how much creative work goes into developing projects and that very few reach all the way to the screen. Esther Morales and Olatz Arroyo both expressed their concern and surprise that their colleagues from other countries do not enjoy the same unwaivable right to remuneration as they do in Spain (read our case study). These are just a few examples, watch more here.
Our one-by-one frank conversations with authors shed lights on the people behind the policies. Most of the screenwriters and directors we spoke to were established ones and members of a collective management organisation. In their own words, they described what it means to receive royalties for the exploitation of their works and why being a member of a CMO is important (such as Jochen Greve during our event with AEPO-ARTIS). Their encounters also tell how difficult it is for emerging authors to go up against big streaming platforms, the fear of being blacklisted if too assertive and the wish of having your films seen, to almost any price. Therefore, authors' rights must be legally protected and EU countries must implement Article 18 of the EU Copyright directive with remuneration mechanisms that ensure audiovisual authors receive fair and proportionate remuneration for the exploitation of their works on all media.
Due to COVID-19, authors' works have been watched more than ever on TV and streaming platforms, and the pandemic has enabled the SAA, through its activities, to bring authors' professional stories closer to policymakers. In the future ahead, we will continue to put authors at the forefront of our advocacy work so that creators will be at the centre of EU policies affecting them.